The Pinehurst Web Team has assigned you a user name (initial of your first name plus your last name – e.g., pstarr) and has sent you an email similar to the following email.
To complete your registration as an authorized user on our website, you need to create an unique password. A password is necessary to access restricted pages on our website. Currently, the Resident Directory and Contact Us pages are restricted to authorized users. To create your unique password, complete the following three steps.
1. Click on the link in the email and you will be directed to the following web page
Enter a unique password that you can remember. We strongly recommend that you do not use "generate password" unless you use a password manager application such as 1Password.
If you get either of the following messages, please use the suggestion in the "Hint" to make the password either medium or strong. This will protect our website from hackers.
If you follow the suggestions in the "Hint" as illustrated below, your password should be either medium or strong.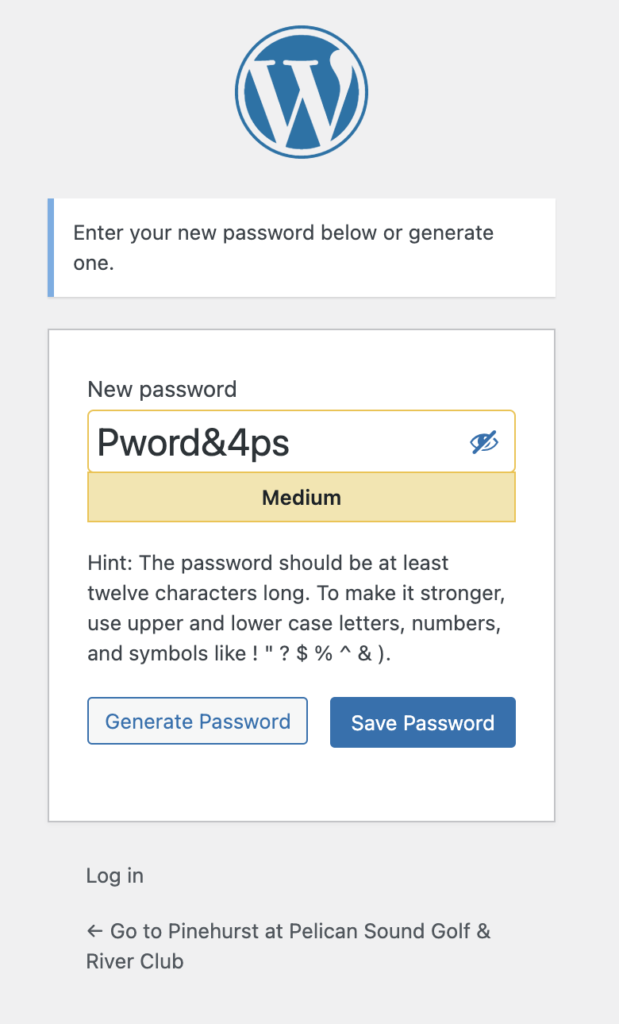 2. Click on save password and you will be redirected to the following page.
3. Click on login and you will be redirected to the page shown below. On the page below, enter your user name or email and your new password. Then click on login and you will be redirected to the Pinehurst website.